BMW 'absolutely committed' to a new Mexican plant
BMW has told the BBC that it is "absolutely" committed to a new plant in Mexico despite Donald Trump's hostility to imported cars.
The president-elect has threatened to impose a "border" tax on firms that make cars in Mexico for the US market.
BMW is spending $1bn on a plant in Mexico, while other firms are investing in the US or moving production back.
On Sunday Fiat Chrysler Automobiles (FCA) announced a $1bn (£816m) plan to produce three Jeep models in the US.
FCA will also move the production of a Ram pickup truck from Mexico to the US.
Last week Mr Trump criticised General Motors for building cars in Mexico for the US market.
"General Motors is sending the Mexican-made model of Chevy Cruze to US car dealers tax-free across a border. Make in the USA or pay big border tax!" he tweeted.
He also threatened Toyota with a border tax if it went ahead with a plant in Mexico.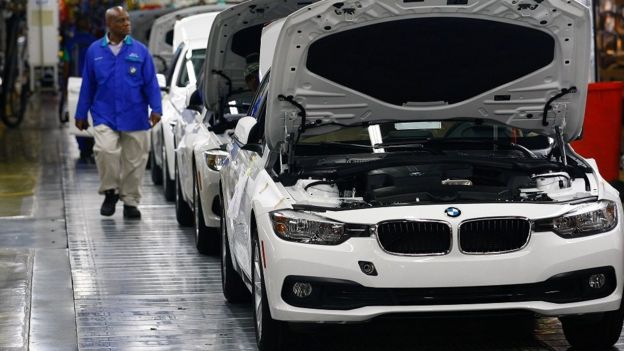 BMW sales and marketing director Ian Robertson told the BBC that the firm was "absolutely" committed its new plant in San Luis Potosi, which will make it's 3 Series cars for sale across North America.
He added that the company was investing $1bn in its plant in South Carolina and pointed out that BMW was the biggest exporter of cars, in terms of value, from the US.
"I don't think there's any discussion that BMW is not at home in the United States. Yes, we are building a plant in Mexico. Yes, we built a plant in Brazil last year. Yes, we are building plants in other parts of the world as our capacity increases. But that's part of a normal strategic manufacturing direction," Mr Robertson said.
Source: BMW 'absolutely committed' to a new Mexican plant – BBC News